'Shree Aniruddha Aadesh Pathak' is a 'not-for-profit' charitable institution incorporated under Section 8 (Earlier Section 25) of the Companies Act, 1956, in March 2006. The 'Shree Aniruddha Aadesh Pathak' (SAAP), along with its sister organisations, such as 'Shree Aniruddha Upasana Foundation', 'Aniruddha's Academy of Disaster Management', etc. undertakes various socio-cultural activities with the guidance and inspiration of Dr Aniruddha Dhairyadhar Joshi – MD. Medicine, Mumbai.
'Shree Aniruddha Aadesh Pathak' aims to create a volunteer force of youngsters across the country, who will, in the normal course, provide back-up to the local authorities and assist them in the execution of their work.
We also have undertaken projects aimed at the promotion of literacy and eradication of poverty in the country.
Moreover, our organisation has been built on the foundation of core values lead by Dr Aniruddha Dhairyadhar Joshi.
Shree Aniruddha Aadesh Pathak has been registered under TISS (Tata Institute of Social Sciences), bearing TISS Code - TISSAESDII/2017/08/17, under their programmatic assessment in year 2017.

The organisation has been empanelled from 10 Oct 2017 to 10 Oct 2020, for its adherence to TISS Assessment and Empanelment Standards for Development Institutions in India (TISSAEDII)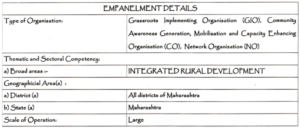 Core values and principles that the organisation stands for are--
Compassion

Selfless Service

Dignity of Labour

Education for every child
We have thus, strengthened our foundation based on these core values and principles; the three areas where our strength can be witnessed are--
A dedicated force of Volunteers

Qualified and proficient Manpower who can plan and execute the projects.

Disciplined and sustained approach for the upliftment of the marginalised communities.
We are proud to share with you that our organisation has left no page unturned in terms of providing service for the noble causes of our nation. Not only have we achieved the goals we aimed for, but have been achieving higher and striving for better.
Our Vision-
To create an atmosphere of Communal and Social Harmony by encouraging public at large to participate in different social activities, thereby promoting respect and raise a cordial feeling of brotherhood transcending all social barriers.
Dr Aniruddha Dhairyadhar Joshi has made this verse his resolve-
Avghachi Sansaar Sukhacha Karin | Anande Bharin Teeni Loke ||
(I shall fill this world with happiness and abound with joy, all that be)
All of us believe that with this firm resolve, nothing can hinder our path and by the grace of Mother Jagadamba, may we strive furthermore to make a greater difference with every new attempt.
Our Mission:-
We have made the resolve made by our mentor, Dr Aniruddha Dhairyadhar Joshi our only mission and hence, we strive to make a difference by undertaking various initiatives at a rural and urban level, breaking the socio-economic barriers and ensuring that people at large be able to live in peace and harmony.
We have undertaken the initiative in-
Aniruddha's Institute of Gramvikas

Mega Blood Donation Camp

Aniruddha's Bank for the Blind

Pulse Polio Drive

HAM Radio

Optometry

Notebook Distribution

Bonsai Sports

Environmental Friendly Drives-
    a. Tree Plantation
    b. Vermiculture
    c. Eco-friendly Ganesh Idols
    d. Beach Cleaning